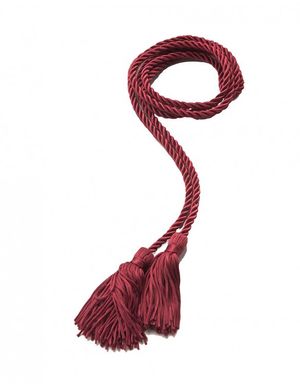 Rahab and Her Rope
The rope.   
It belonged to a lady named Rahab who lived in the Middle Eastern city of Jericho about three thousand years ago. She was a prostitute. As the Israelites migrated out of slavery in Egypt, they approached Jericho and General Joshua was given orders to conquer it. But, before "the walls came a tumblin' down," he sent spies into the city. They found housing and protection at Rahab's place. She swung a deal with the spies for her family to be spared from the coming carnage. They told her to gather her family to her house, and hang a scarlet rope out the window as a signal to the soldiers to leave it intact. Rahab trusted the spies, and she and her family alone were saved in the destruction of Jericho. This story can be read in the Bible in the book of Joshua, chapters 2-6.

Rahab is mentioned again in the Bible's New Testament as an example of someone of great faith. So somewhere along the way, she received even greater rescue — the ultimate and eternal rescue of accepting God's love and peace that passes understanding. Just a few generations of great, great, grandchildren later,  famous song-writer David was born from her lineage — the shepherd boy who defeated Goliath; grew up to be crowned one of Israel's most famous kings and like his colorful great-great grandmother, become one of the human ancestors of Jesus himself. 

Rahab's rope symbolizes an act of trust that leads to rescue. God will never force anyone to trust Him, but He is willing and eager to accept anyone who will. It's that simple. All you have to do is ask.